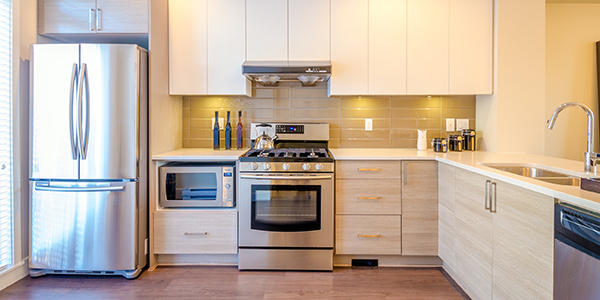 Freezer Repairs, Refrigerator Repairs, & More
The time we spend in our kitchens can be some of the most enjoyable parts of our day, cooking a hearty breakfast on the stove or loading dishwasher while you talk to a friend on the phone. But, when our kitchen appliances start to falter and aren't able to meet the demands of our daily lives, the time you spend in the kitchen can become frustrating and stressful instead of enjoyable.
Milton's Sudbury Appliance is dedicated to assisting you in keeping your critical kitchen and household appliances functioning in tip-top shape. Some of our core focuses in kitchen appliance repair include:
Refrigerator and freezers: Is your fridge squeaking and squealing every time the compressor kicks on? Is the temperature in your freezer inconsistent at best? Issues like these and more can cause major problems when it comes to keeping your food safe and edible. We're adept at assessing and addressing fridge and freezer repair problems of all types, to make sure your amenities are running right. Plus, we can quickly address refrigerator repair in Marlborough, MA to minimize interruptions to your daily life.
Stoves, ovens and ranges: Whether gas or electric, we can deliver quality stove repairs, oven or range to get it back into top working order. We're familiar with problems such as dead burners, uneven heating, pilot light troubles and more, and can resolve them quickly, to make sure you're cooking with heat once again! Call us for stove repair in Marlborough, MA at the first sign of trouble.
Dishwashers: Is your dishwasher leaking? Is your heated dry setting not getting everything fresh and clean? Whatever the trouble may be, it's quickly fixed by a Milton's Sudbury Appliance technician. We're familiar with all makes and models of dishwasher, giving us the insight needed to correctly diagnose and resolve problems.
No matter the kitchen appliance repair, no matter the problem at hand, you can count on us to set things right, so you can get back to using your kitchen in its full capacity.
For more information about any of the kitchen appliance repair services we're able to offer or to inquire about our stove and freezer repair capabilities as they pertain to your appliances, please contact us today at 508-485-3455. We're happy to consult with you over the phone to provide you with a free estimate on everything from dishwasher part replacements to comprehensive refrigerator repair in Marlborough, Berlin, Sudbury, Hudson, and Northborough, MA.